Taking the plunge and setting up a new franchise can be an exciting, yet daunting prospect. That's why at Domestique Franchise, we've interviewed one of our latest franchisees to come on board – Karl Styles.
Karl runs the Banbury Domestique franchise which covers Banbury, Buckingham, Brackley and Towcester, while his wife runs the Rugby franchise which operates in Rugby and Leamington Spa.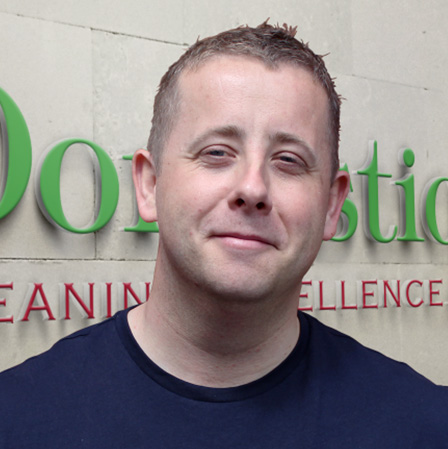 What was it that led you to become a Domestique franchisee?
After a number of years working long, demanding hours in senior management, Michelle and I decided that we wanted to focus our energy on growing our own business. We wanted something that would offer flexibility, while freeing up some time to focus on our new family.
We investigated which areas would be best to invest in, and found that an ever-increasing number of young families and professionals are calling in domestic cleaning companies. Furthermore, when we came across Domestique and learnt about all its very successful existing franchisees, we felt particularly inspired to go ahead.
With a low initial investment, we could set up something new in an area we had no prior experience of, while feeling immediately supported by the franchisors.'
How have you been supported so far?
Prior to taking up the franchise opportunity with Domestique, we had no experience of running a business or working within the cleaning industry. This initially made us hesitant to embark on this venture, but our research into the growing demands for professional cleaners was supported when we met with other franchise owners.
They reemphasised the needs for the industry and offered personal support in helping us to start our venture, while also helping us overcome initial problems and establish our brand within our respective areas.
Our franchise owners are always on hand should we have any concerns, or if we need any help, support or advice.'
What are your plans for the future?
We have only been in business five months, but feel we have really started to make our mark on the cleaning industry in Banbury, Rugby and the surrounding areas.
We will continue to grow our client base and as our knowledge of the industry increases, we'll undoubtedly look to increase the size of the business – both in terms of client numbers and regions covered.'
If you are looking for a low-cost, successful and national business, a Domestique cleaning franchise may be just for you. To find out more, or to ask any questions, call us today on: 0121 369 0999.